Hi @jsferrell,
When exactly does the error occur? New firmware version (2.5.2) was released yesterday. Please, update the device and let us know whether the problem reoccurs.
Best regards,
Karolina
It was happening right at the first of the program and it happened while running the print.
I purchased a new SD card and so far the problem has not come back. i am not sure if that was the fix?
time will tell.
I have exactly the same error message and no idea what it means. It happens a while into longer prints.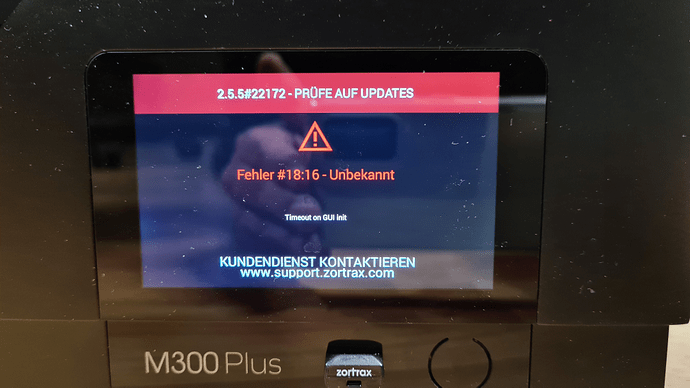 Hi @david3141,
Have you tried updating the firmware to 2.5.6? Will the same error occur then? Just in case - please, check the connections as indicated in the troubleshooting manual.
Best regards,
Karolina
Hello Karolina,
I updated to 2.5.6 and the error persisted. It is possible to print quite long prints, but sometimes this error just pops up.
Hi David,
thank you for the update. Please, contact us via support form so our specialists can look into the matter. Also, please ensure the printer is connected via Internet so when the error occurs - we should then receive the logs which will help us find a root of the problem.
Unfortunately we bought the printer from the remaining assets of an insolvent corporation, so I don't know when the printer was bought and where.
Hi David,
I understand. Still, please contact us via support form, just provide some random information if necessary. We might be able to verify the warranty on the basis of the serial number. If the printer is no longer covered by it - we will still provide assistance, especially if any of the parts requires replacement.
Hi Karolina,
I didn't get any response until today.
Hi David,
Unfortunately, it seems we have not received your support form as we would have definitely replied to it yet. Please, forward your message directly to my e-mail address. I will send it to you via PM.
Hi @meteoto,
Has the error occurred just once? What Z-SUITE version are you using? Please, contact us via support form and provide more information. We will look further into the matter.
Best regards,
Karolina
Hi Everyone,
I am also getting this error.
currently running firmware version 2.6.3
using the Z-suite Beta slicer
I have been running prints all week all have been under 12 hours have successfully completed.
I had 2 separate prints that ran over 12 hours and they both failed with the same error.
I re-printed the parts but instead of printing several parts i reduced it so the total printing time was less than 12 hours and it completed with no errors.
I haven't seen this error before
Is this a potential issue with the recent update?