Too often I get this error when closing ZSUITE
It happens in all previous versions too
Thank
Hi!
Could you send me error logs? They are available in Event Viewer > Application, if possible take screenshots of those with Z-SUITE as a Source.
Thank you, @robysoldtamiya.
I've consulted your case with our specialists, but they don't have any information regarding this error.
Does it appear only when closing the program?
If it's too problematic for you, you can try with re-installing Z-SUITE, but I'm not sure it will help.
Sorry to say that things has begun getting worst ,
I get crashes even at startup of the program from some versions ago.
I disinstalled all .net frameworks, Visual C++ and Zsuite and reinstalled everything but problem is still there.
Thank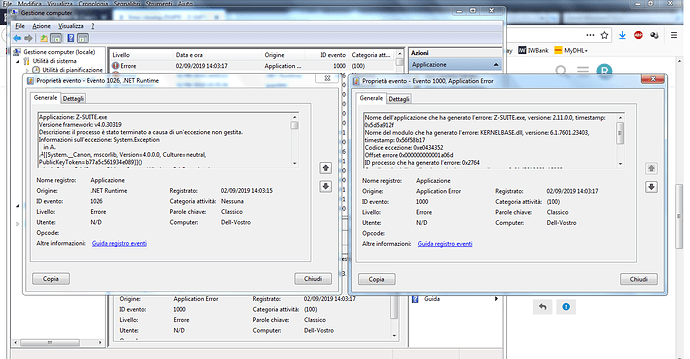 Hi, have you uninstalled all versions of these applications via Control Panel?
Please, make sure that there isn't any old version of .NET Frameworks, Visual C++ or Z-SUITE installed.
Only then try to install the newest version of Z-SUITE software.
yes from CP.
I'm still investigating and found that crashes at startup happens when sometime there's still a ZSUITE job running after closing ZSUITE.
I have to kill the job otherwise ZSUITE won't start.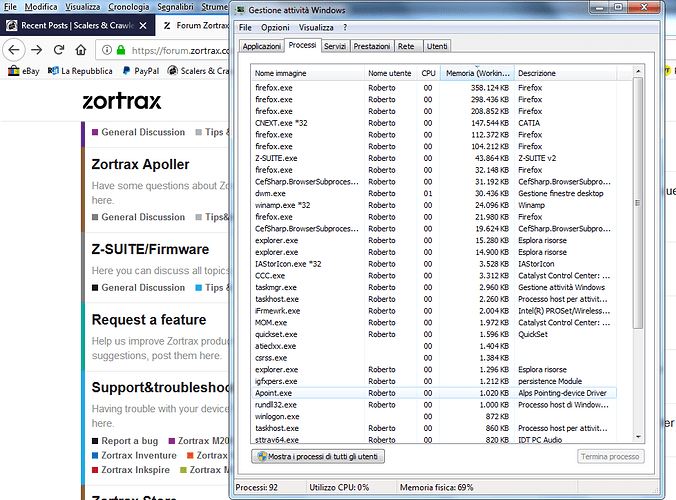 Thank you for the information.
Please, confirm that you install the newest Z-SUITE 2.11.1.
Did you install Z-SUITE in a new catalog (without any other Z-SUITE files)?
Hi
yes I have 2.11.1
I installed previous version disinstalling from CP the version I had and removing all files in the zortrax directory. I upgraded then to 2.11.1 when available without removing previous.
I never deleted anything when a new version was available, I simply let the updater do its work.
I only did one time as described above to see if something went better.
Thank
Roby
Maybe could help telling the way I work:
first of all I never shut down my laptop, I always put it in standby leaving all programs opened.
this could happen several times a day.
It could happen that I have Zsuite opened with an exported zcode (but project not saved).
It could happen that I close Zsuite after a restart with an unsaved project in memory, when I close zsuite I don't save project, I never save projects.
v 2.11.1 is giving much less problems than previous versions, it happened 1 time it crashed since installation, and the double click on file error disappeared
Thank
Roby
So, so far only one crash with 2.11.1, is that correct?
Please, if it crashes again, let me know whether any error appears and what information you get in Event Viewer. Hope that it'll work better now.
I'm still getting crashes from 2.11.1, they happens more often recently.
Today I found that if you start zsuite, then double click on a .zprojx it crashes.
Does it happens to you too ?
Anyway the most common problem is that an instance of Z-Suite is still active after closing the program, see in the attach pic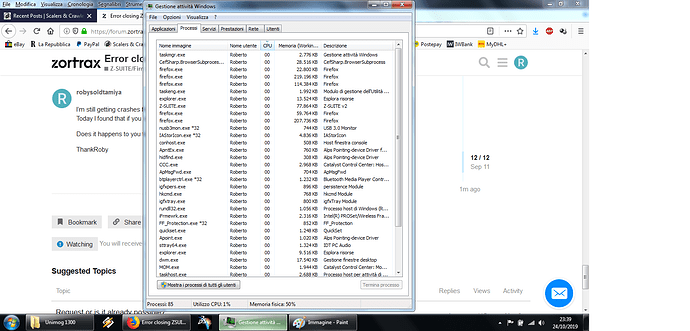 ThankRoby
Hi Roby,
Our specialists have been investigating the issue - sadly, they were unable to recreate the experienced issue.
Does Z-SUITE crash while opening one specific .zprojx file, or it happens with other files as well?