Hello, I'm new to Zortrax's machines, and my company has recently acquired (2) M300 Duals. Unfortunately my experience so far has been less than stellar.
When starting the M300 Dual for the first time, the UI prompted me load the latest firmware onto the included USB drive. I downloaded 2.2.3 from the zortrax website the unzipped the file, put the file "update.zar2" on the drive, and inserted the drive into the front USB port on the machine.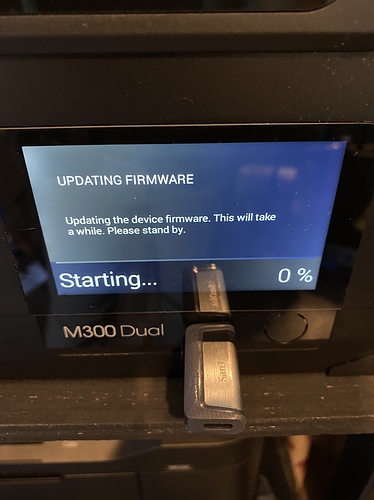 The UI sits at 0% for a few minutes before displaying a firmware update Error.
I've contacted Zortrax support and they have instructed me to try a different USB drive and try reverting to a previous version of the firmware (Support Form: Software problem[020634]). I've attempted both suggestions, without success, and no additional support has been provided from Zortrax.
Has anyone else had a similar issue, or know of a way to resolve this problem?