Hi @Amitabh007,
when exactly does the error occur? Did this happen immediately after updating to 2.6.0? If yes - please revert to 2.5.13 (via USB) to see if the error is gone then.
Check the heatbed cable (both internal and external) and heatbed PCB through (adapter) for any sign of damage (burnt/damaged pins). Then measure resistance between NTC and GND (depending on the ambient temperature - it should be around 90-110 kΩ):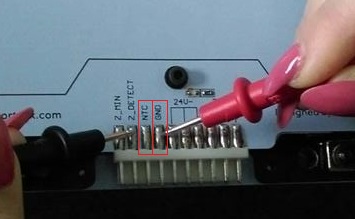 Best regards
Karolina
Hello Karolina,
I found the problem here. Problem with the hardware. One of the MOSFET of motherboard damaged here. Where I can found the original motherboard for this M200plus machine?
Thank you!
Hi Amitabh,
thank you for the update. I am glad to hear you found a root of the problem.
Please contact our support agents directly via support form - we will provide you with all details concerning purchase of the motherboard.
Best regards
Karolina
I can't be able to fill the support form. Can I got your wechat id that I can contact with you. I need help. Thanks.
Hi Amitabh,
I sent you a PM - please, check your inbox.