Hey there,
I have some problems printing small, repetitive cylinders. As it is difficult to explain, here are two images:
That's what I want to print:

And this is the result: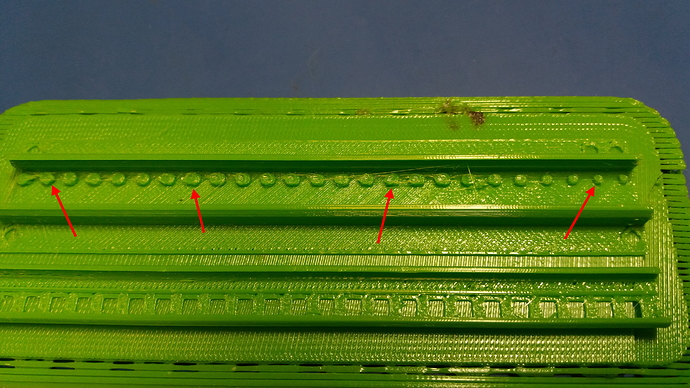 As you can see, the small cylinders, which are all the same size and diameter in the 3D model, are increasing in diameter in the actual printout, but I don't know why.
This are my settings, any hints to solve this problem are welcome!
Application version: 2.12.3.0
Estimated print time: 0h 48m
Material usage: 3.24m (10g)
Printer: Zortrax M200
Profile: Last settings
Support type: Editable
Material: Z-PETG
Nozzle diameter: 0.4 mm
Layer: 0.19 mm
Quality: High
Infill: 30%
Fan speed: 20%
Seam: Normal
Outer contours: 0.00
Holes: 0.00
Surface layers Top: 6
Surface layers Bottom: 3
Support Lite: No
Smart bridges: Yes
Support offset: No
First layer Density: 100%
First layer Print speed: 100%
First layer Flow ratio: 100%
First layer gap: 0.40 mm
Raft Enabled: Yes
Raft layers: 6
Platform-raft gap: 0.20 mm
Raft Density: 100%
Raft Print speed: 100%
Raft Flow ratio: 100%
Support Density: 4.00 mm
Gap XY: 0.43