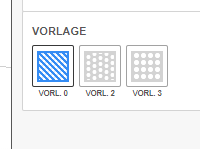 What is the difference of different infills?
Hi, @Andreas75s.
You can find more information about infills here.
Different infill patterns allow users to adjust the models' durability, printing time and use of material. Linear infill prints fastest but has the lowest durability. Octagonal infill offers enhanced durability but with slightly longer printing time. As for honeycomb, it requires the longest time to print and uses the biggest amount of material, but allows the highest durability.
For M series Plus and M series Dual we've recently introduced Grid pattern, which generates full grid on each layer of the print.